Tribal Shields of New Guinea
There are many different styles of Tribal Shields from Papua New Guinea. They vary depending on the region/tribe they come from. The aim of this article is to help you recognize and know more about these tribal Shields. Hopefully, you will appreciate the variety of this wonderful South Pacific art form.
This Article does not include Sepik Shields or tribal shields from Madang province. Those shields have a separate article.
The best-known shields from Papua New Guinea come from the Highlands region. The highlands have a high population and warfare was common. There is however also a wide variety of different types of tribal Shields from throughout New Guinea.
There are so many different forms of Sepik shields that they are in a separate article. This article also includes the shields from Madang province.
I Buy War shields especially those from New guinea. I also buy shields from the Solomon Islands and Aboriginal shields. If you want to sell a War Shield then please send me a Jpeg. I will let you know what it is worth to me. If you just want to know what your shield is worth send me an image and the size. I would love to see it.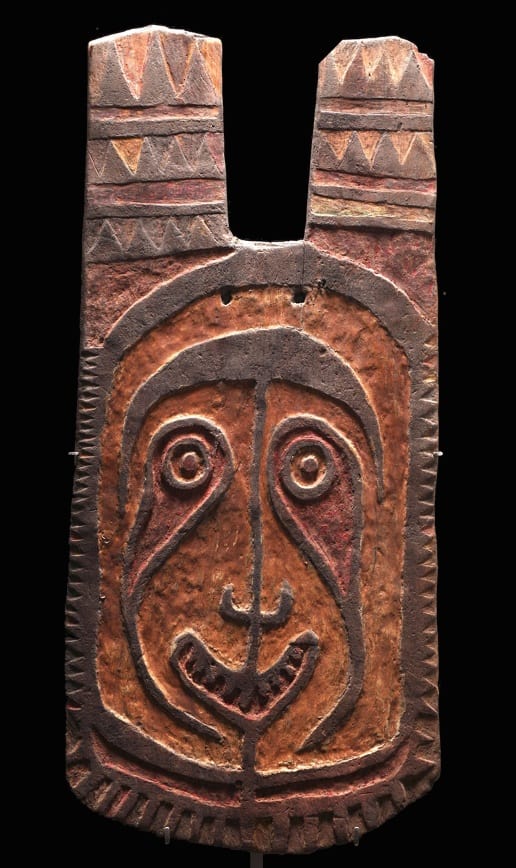 Field Collected by Richard Aldridge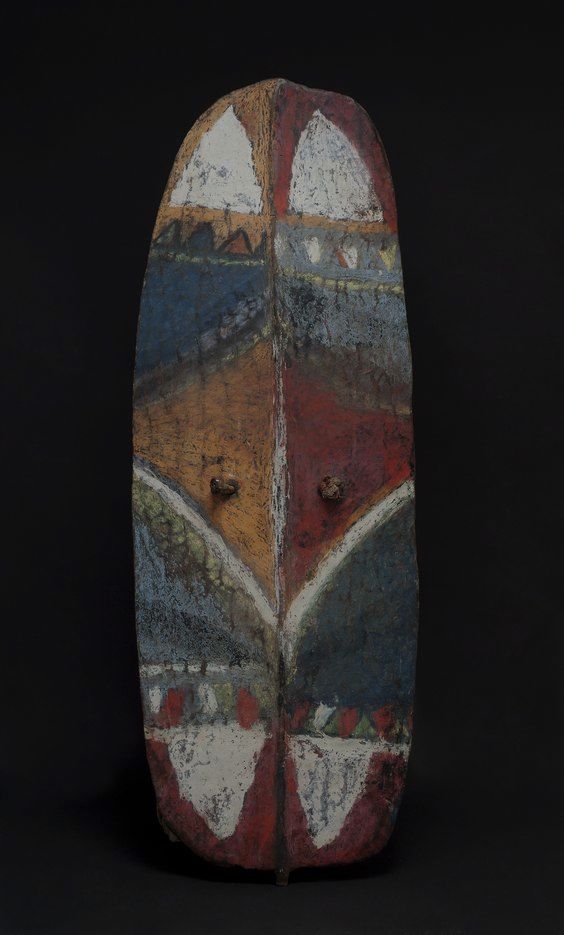 Photo courtesy of Michael Hamson
Tribal Shields general information
Tribal Shields in Papua New Guinea are for open conflicts and not ambush warfare. This is the reason that they were brightly painted with dazzling designs. These designs were a form of psychological warfare through tribal intimidation.
Many of the designs on New guinea tribal shields are of tribal spirits. These tribal spirits empower the shield and offer protection.
Not all War Shields from New Guinea are native weapons.  Some shield types are for use in ceremony. War Clubs from New Guinea are also often ceremonial or spiritual in nature.
Papua New Guinea shields vary greatly in size as well as design. This reflects their use. Some small shields were a form of Body armor. Other large shields as a movable defensive point carried by an unarmed person for archers to hide behind
The following is a visual guide on shields but due to the huge variety throughout the country is not inclusive.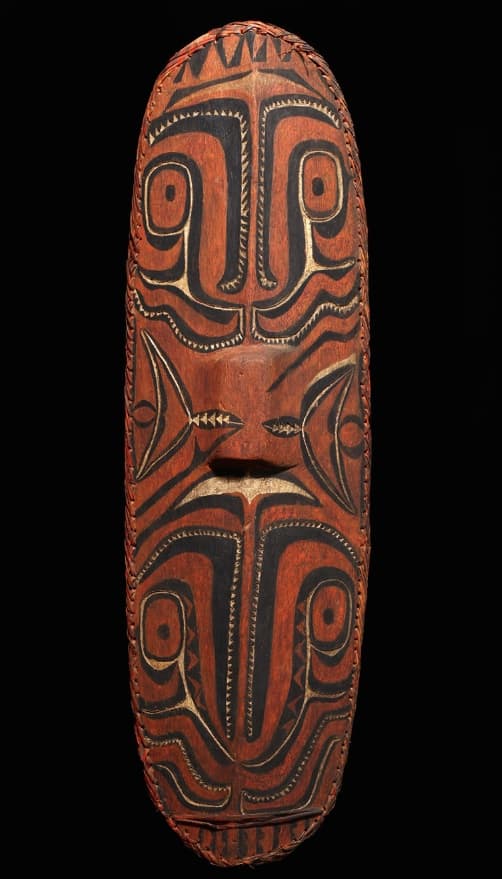 Sulka Shields
Sulka Shields are oval in shape, around 1.25 Metres tall and painted front and back. The front has a raised boss covered with a criss-cross of woven cane. A handle incised into the rear, just large enough to fit the hand.
The design on the front often looks like two abstract faces. The entire rim of the shield strengthened with woven cane.
Sulka shields are for in close range fighting against spears and clubs.
Later Sulka shield was also used for ceremonial dancing and are smaller.
These shields are quite Rare and very collectible.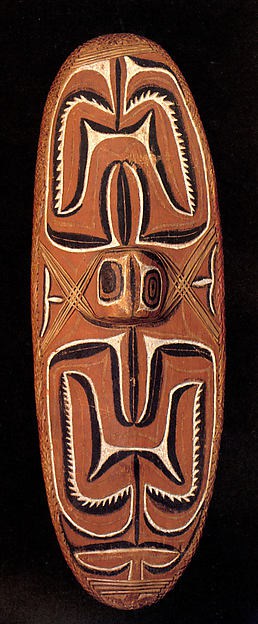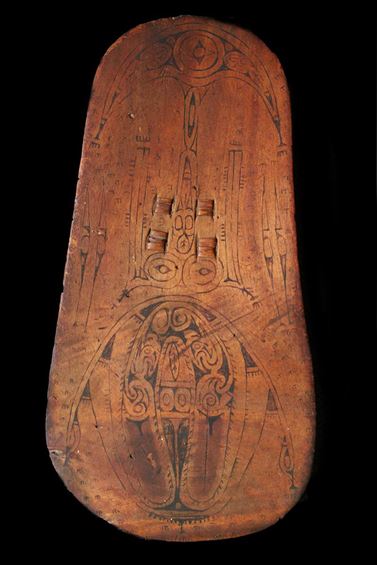 Trobriand Island Tribal Shield
Tribal Shields from the Trobriand island shields are easily recognized from their pear shape. The handles consist of two lateral parallel rattan cane loops. They are usually predominantly white with complex iconography in black and red. They are normally around 70cm tall.
Trobriand shields were far a ritualized form of warfare at an agreed fighting ground. They were defense against thrown spears.
Most examples have an early collection date and are quite rare.
Kandrian Shields / Arawe shields
Kandrian shields are rectangular and made from three planks of wood attached together by cane. The front has pairs of concentric circles divided by horizontal bands. The handle incised into the central plank which is slightly thicker than the side planks. They range from 130cm to 160 cm tall.
Kandrian tribal shields were for use against thrown spears in open settings during warfare. They were also used in traditional threatening dances during inter-clan marriage ceremonies.
Kandrian shields are quite common and although collectible are not as valuable as other areas. They come from the Inland and coastal regions of West New Britain.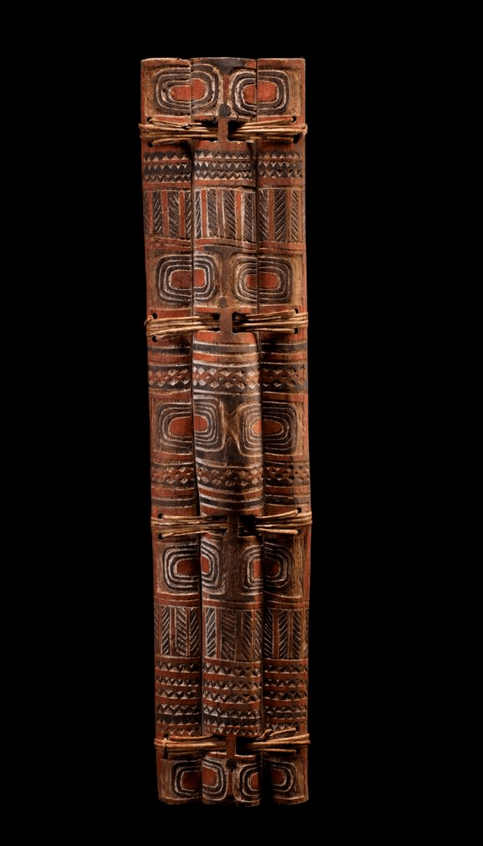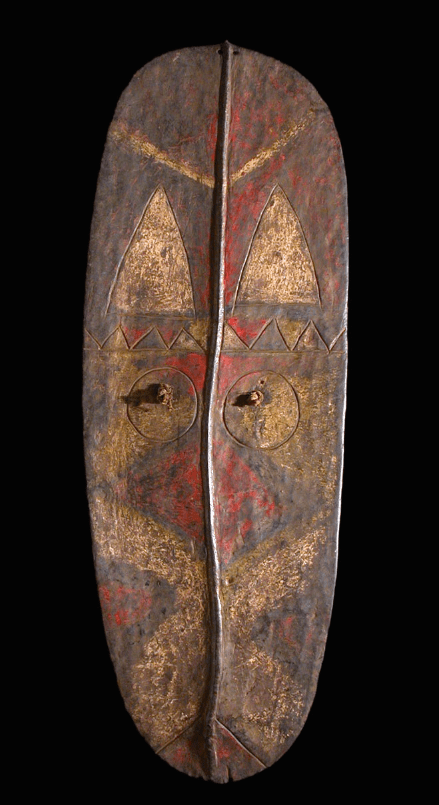 Mendi Shields
Mendi shields come in two types.
Archers underarm shields, made from hardwood and have a short strap so they can be slung under the armpit. They are normally around 70 cm long. Archers shields have a notch at the top with two holes for attaching the strap on either side of the notch.
They protect one side if the the archer is facing sideways. This allowed the archer's protection while still able to shoot arrows.
Oval tribal shields have two piercings near the center for the attachment of a carrying strap.  Better examples have a well defined medial ridge.
The front of both types of Mendi shields have painted clan designs. Old examples are collectible but there are a lot of tourist copies that are not.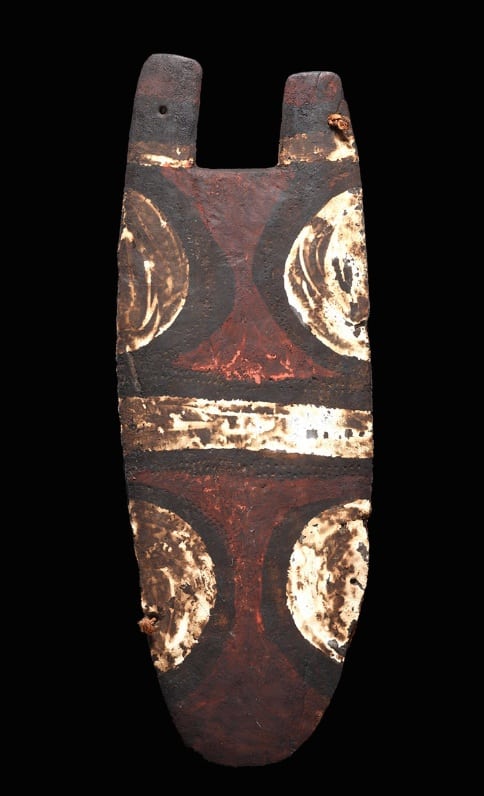 Telefomin Shields
Telefomin shields are large and rectangular. They are often 1.6 to 1.8 metres high. the front painted in angular geometric designs and painted predominantly red and white. The shield is usually pierced in four places for the attachment of long distance carrying straps made of cane.
A Telefomin tribal shield was usually carried by an unarmed shield bearer. Bowmen would closely follow the shield bearer using the shield as cover. The shield was not carried by the cane handle but gripped at the sides and held out in front of the shield bearer. The shieldman was in charge of tactics and would maneuver with archers closely following releasing arrows.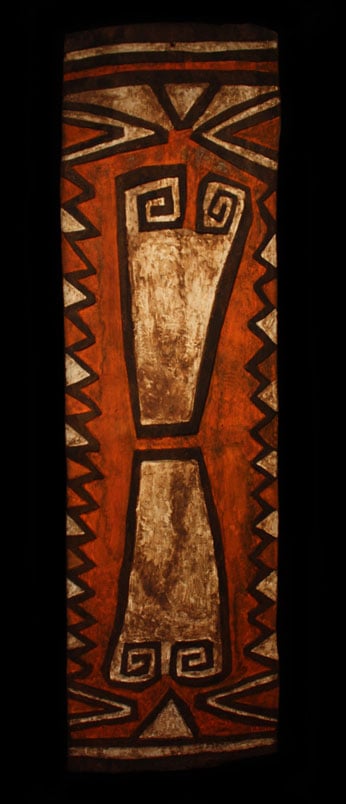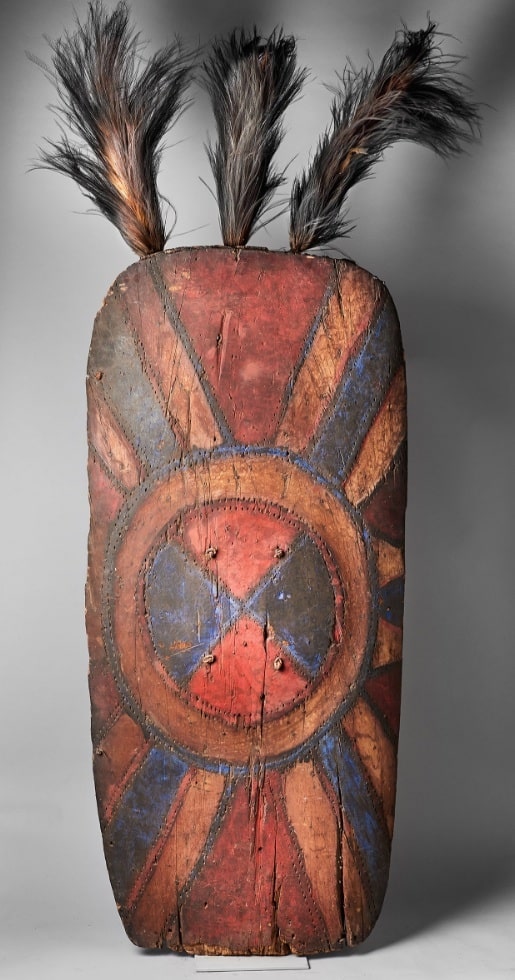 Mt Hagen Shields
Mt Hagen Shields are also known as Waghi valley shields and are the biggest in the highlands. They are around 150 cm tall and 60 cm wide and rectangular. Two rattan strips attached through four holes form the handle.
The tribal shields were for fixed battles. The shield carrier armed with a spear and formed a front protective line. Bowmen followed closely using the same shields as protection.
In the 1970's some areas of Waghi valley dropped the use of traditional tribal shield designs and started to use European motifs. The best known and most collectible of these are phantom shields.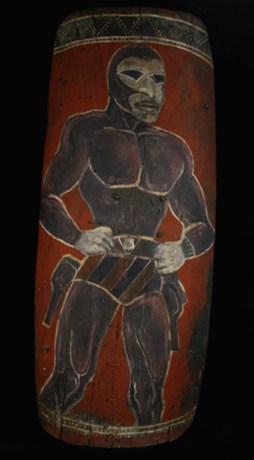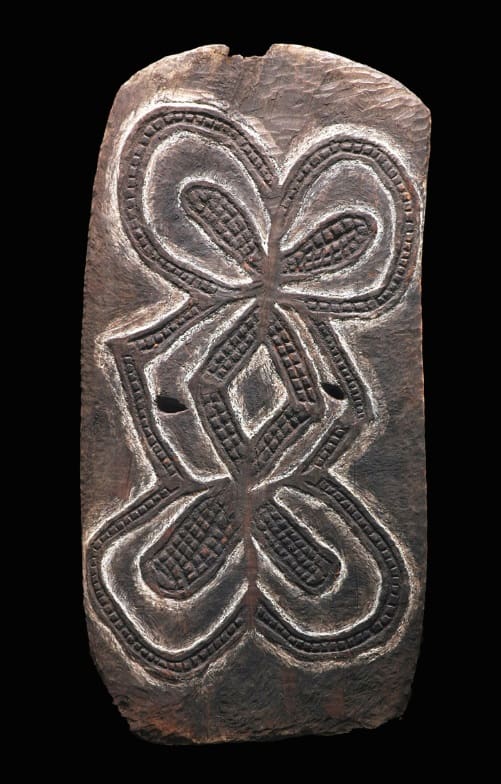 Simbai Shields
Simbai shields have a distinctive design. They have a patchwork of squares contained within pairs of curvilinear lines. They have two piercings for the attachment of a single long fiber rope handle.
Archers carry the shield by the strap off their shoulder. The shield on the archers' side and back and protects the region from head to buttocks.
This is a reasonably common shield. Old examples are collectible but newer made for sale shields are not. Newer shields blackened over fires have exist in their hundreds.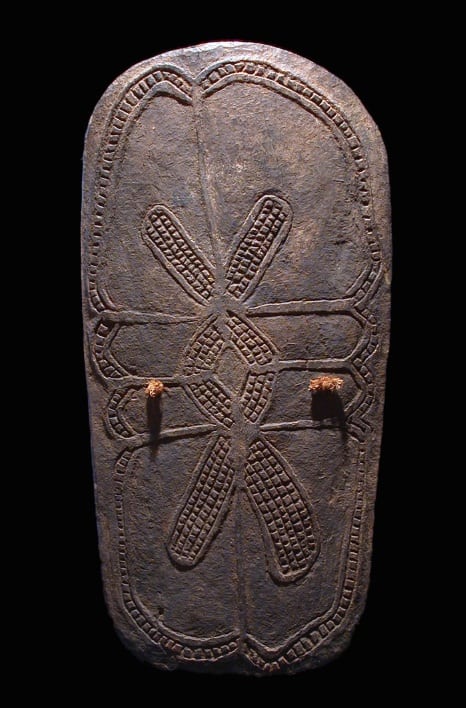 Eastern Highlands shield
These shields are a tall long rectangle and painted black with minimal decoration. The tops reinforced with rattan. They are usually about 120 cm tall.
Not very popular with collectors because they lack decoration and aesthetic appeal.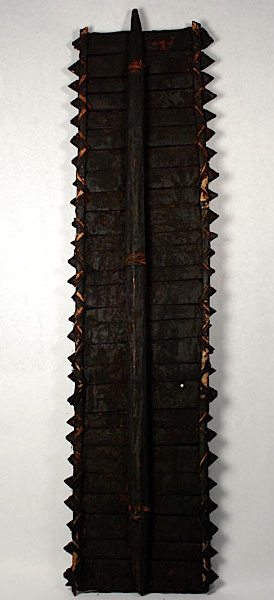 Highlands Bark Shields
Bark shields come from the Southern Highlands and Enga. Due to their fragile nature they are very rare.
Made from a sheet of bark they have a handle and support frame on the reverse made of sticks.
In general bow fighters in these areas do not use shields. They prefer to physically dodge incoming arrows. If an opposing archer goes down they will surge forward and kill the enemy with fighting picks.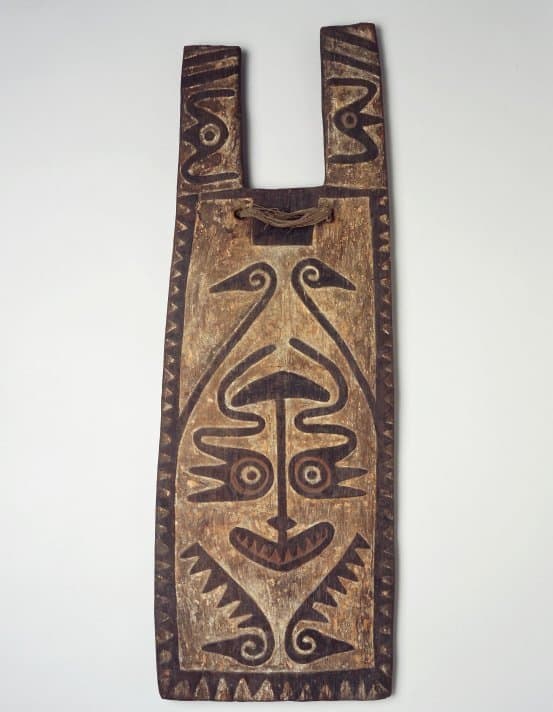 Papuan Gulf Archer Shield
Papuan Gulf Archers shields have a distinctive square section out of the top. This allows the shield to fit under the armpit. Papuan Gulf shields are normally less than a meter in length. Unlike most other new guinea archers shields gulf shields have holes just below the armpit notch.
They are popular with collectors because they normally have a powerful spirit face depicted on the front. These faces depict mythical ancestral heroes and empower the shields.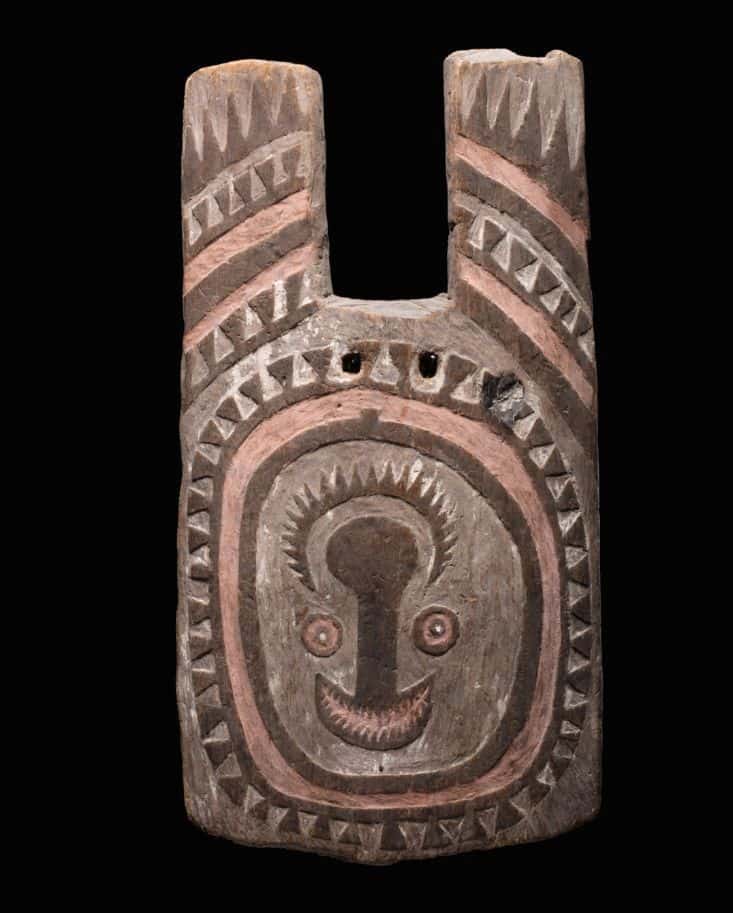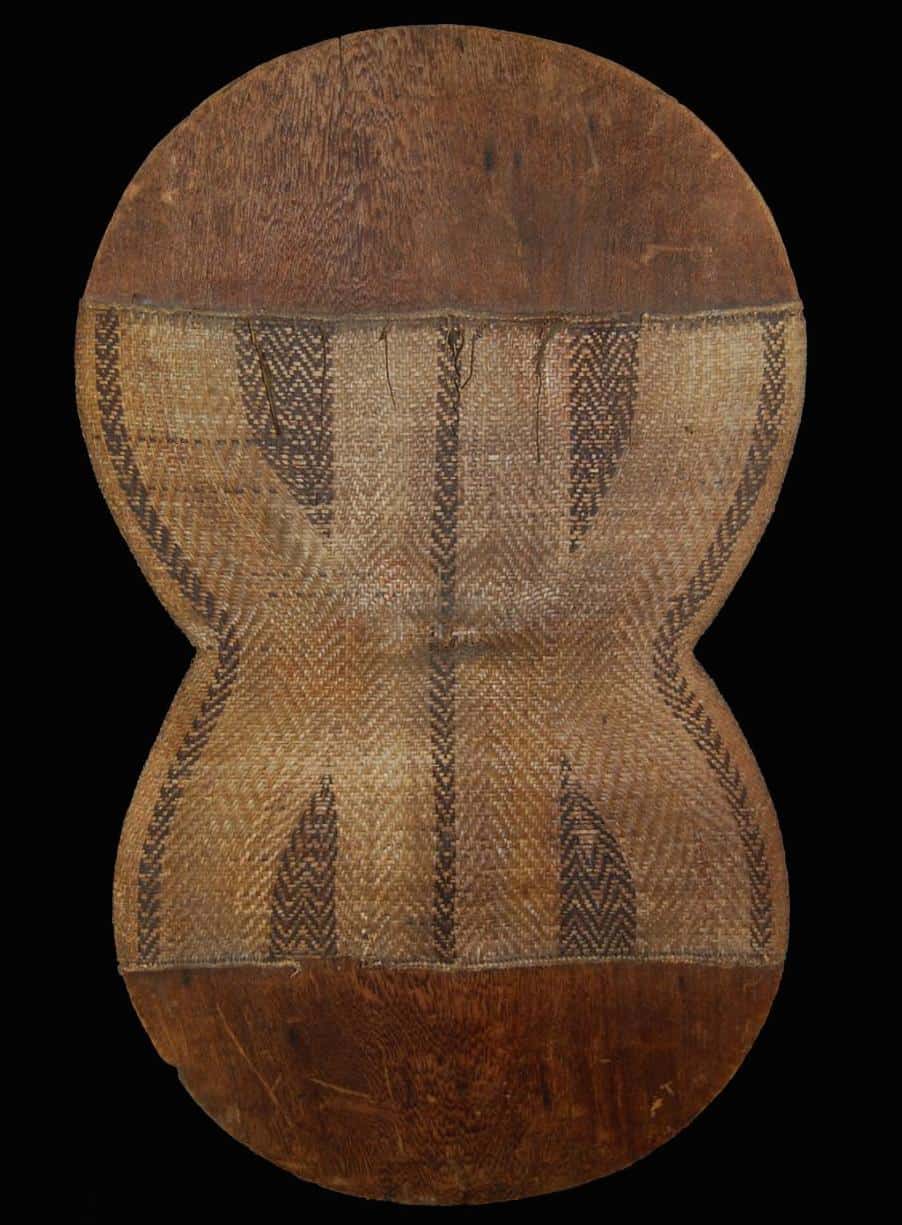 Image: Oceanic Arts Australia
Motu Tribal Shield
Tribal shields from the Motu all have early collection dates. they are easily recognized by the figure eight shape. The Centre has finely woven cane which sometimes incorporates a design.
Motu shields are normally 80cm to 90 cm long. the handle made from a single piece of bent rattan inserted through 2 holes near the center.
Some of these shields also had bands of red feathered decoration.
The shields used in conjunction with throwing spears.
There is also a very rare kidney shaped Motu shield.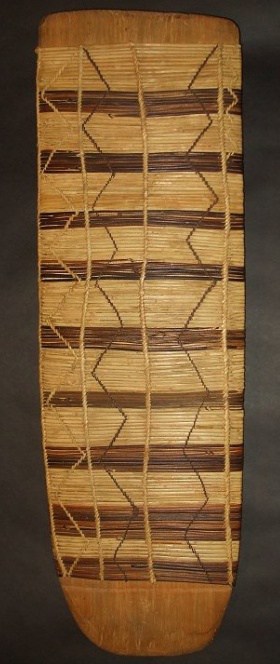 Collingwood bay Shield
Collingwood bay shields are easily recognised from their coasre woven cane covering,  The handle is normally also made of cane.
The shields come in two sizes. Full length shields are 140 cm long. Small hand held shields are 80 cm long.
Collingwood shields were defence against throwing spears.

Mengan Shield
Mengan shields are similar to Sulka shields but are taller and narrower. The front has a raised boss normally covered in in a criss-cross of woven cane. A handle is carved into the rear, just large enough to fit the hand.
Mengan shields were for use in close range fighting against spears and clubs.
Later Mengan shield were also used for ceremonial dancing. Dance shields are smaller and often decorated around the rim with feathers.
More about Tribal Shields
As I mentioned there is a huge variety of New Guinea War Shields and this is only a starting place. If you have a shield you think may come from Papua New Guinea or from the South Pacific please feel free to get in contact with me. The value of shields varies from a couple of hundred dollars to tens of thousands. The value depends on age (the older the better), rarity designs (faces and figures always increase value) and of course condition. Some shields were also made to sell to tourists and not for native use. These shields have minimal collectible value and are decorative
Shields are native weapons but they are also art. Papua New Guinea shields can be lovely and they can often be a form of Tribal canvas for some talented artists
If you didn't find the shield you were researching her also try my article on Aboriginal Shields
For a great book on New Guinea Shields please read Shields of Melanesia published by the Oceanic Art Society
All images in this article are for educational purposes only.
This site may contain copyrighted material the use of which was not specified by the copyright owner.
If this post has been informative please take the time and make the effort to share it on social media.
By clicking any of the share buttons below you create a link from your social site to this article. Links are what google uses to calculate what information on the web is useful. By sharing this article you are letting google know you found my article / images of some value. Thanks!