Kundu is a generic name given to New Guinea Drums used in Papua New Guinea. There are literally hundreds of different types of these fascinating musical instruments. Most of the New Guinea tribes have a style of their own. New Guinea drums usually have either a Lizard Skin or Possum skin on the top and are normally made from a hollowed out hardwood log.
This Article is a visual guide to the different types of New Guinea drums. Some New Guinea drums are collectible as art in their own right.
I buy New Guinea Kundu drums and South Pacific Islands Artifacts so if you have one to sell I would love to see it. If you just want to know what your New Guinea Kundu drum is worth please feel free to send me a Jpeg. I will give you my opinion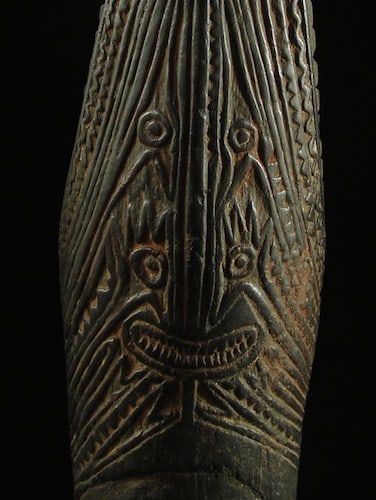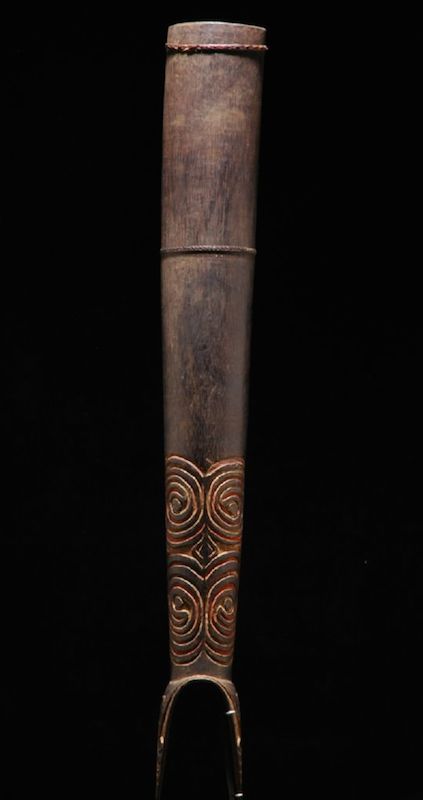 New Guinea Drums General information
Collectors of New Guinea arts and Oceanic art collectors often underestimate the amount of work that goes into making a drum. To hollow an old drum natives placed hot coals in the center of the log and precision burnt and scraped out of the middle. The outer design added after the hollowing out from both ends. Although some are quite plain others are masterpieces of Oceanic art.
The majority of New Guinea has drums but not all areas. There are no traditional Kundu Drums on New Ireland, Manus, Buka / Bougainville or Rossel Island. Kundu drums are a fairly common musical instrument, as most men involved with traditional singsings owned a drum. Certain drums though are exceptional and are highly collectible.
Kundu drums range in size from 30 centimeters for a small Massim finger drum right up to over 200 centimeters. Some drums have handles while others don't this is not determined by size but rather by style.
In general, an older stone-carved drum will be far more valuable than a later one carved with steel tools. It is usually the quality of the art depicted on the drum along with the rarity that determines value. There are exceptions though and drums that have a wonderful form or are unique works of art onto themselves are also highly collectible.
Some drums were a diminutive size for children so that they could practice these musical instruments. They are usually the same as the larger versions just scaled down.
Elema Drums
Drums from the Gulf of Papua between Orokolo and Kerema often had faces of Ancestral heros pictured on the drum mouth.
The mouth represents a crocodile. There value is often dependant on the quality of the face or faces depicted.

Gogodala Drum
The longest type of drum made in New Guinea they can be over 2 meters in length.
The sound of these musical instruments can travel kilometers through the swampland they come from.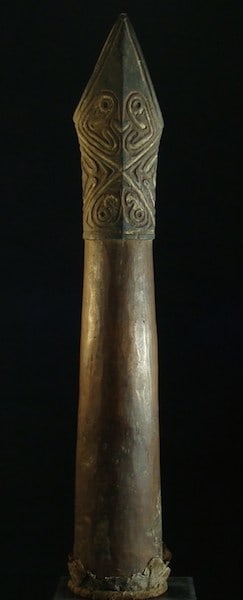 Baimaru Kundu
New guinea drums from around Baimaru have a small crocodile mouth. They normally have many faces.

Uruma Island Kundu
New guinea drums from Uruma Island have a small rounded crocodile mouth. They normally have a single spirit face.
Torres Strait Drum
The Torres Strait drum Warup is the rarest form of Drum and highly collectible. Politically a part of Australia the Torres Straits are culturally a part of Papua New Guinea.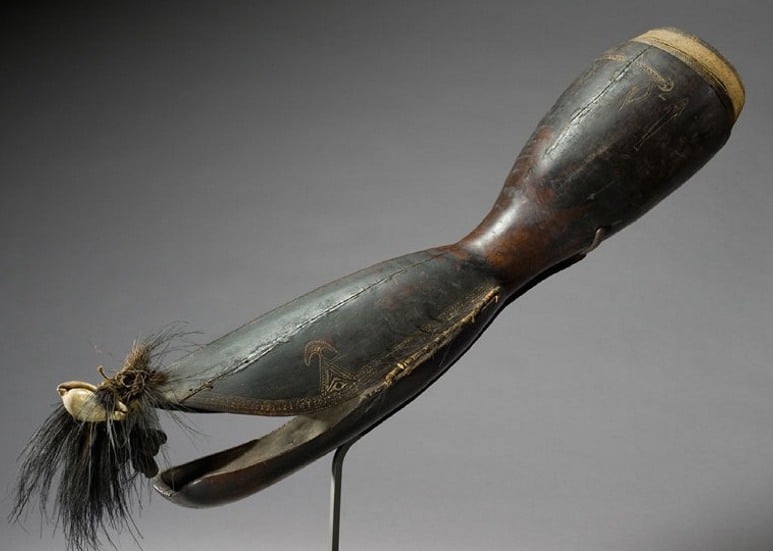 Nomad Drum
Drums from around Nomad still have a small crocodile mouth but lack faces.

Fly River Drum
Drums from around Fly river have large distinctive square profile handles

Massim Drums
Massim Drums from Milne Bay Province are usually curved on the underside. They have distinctive designs of abstract seabirds and snakes.
They vary in size from 30 cm for small finger drums up to about a metre in length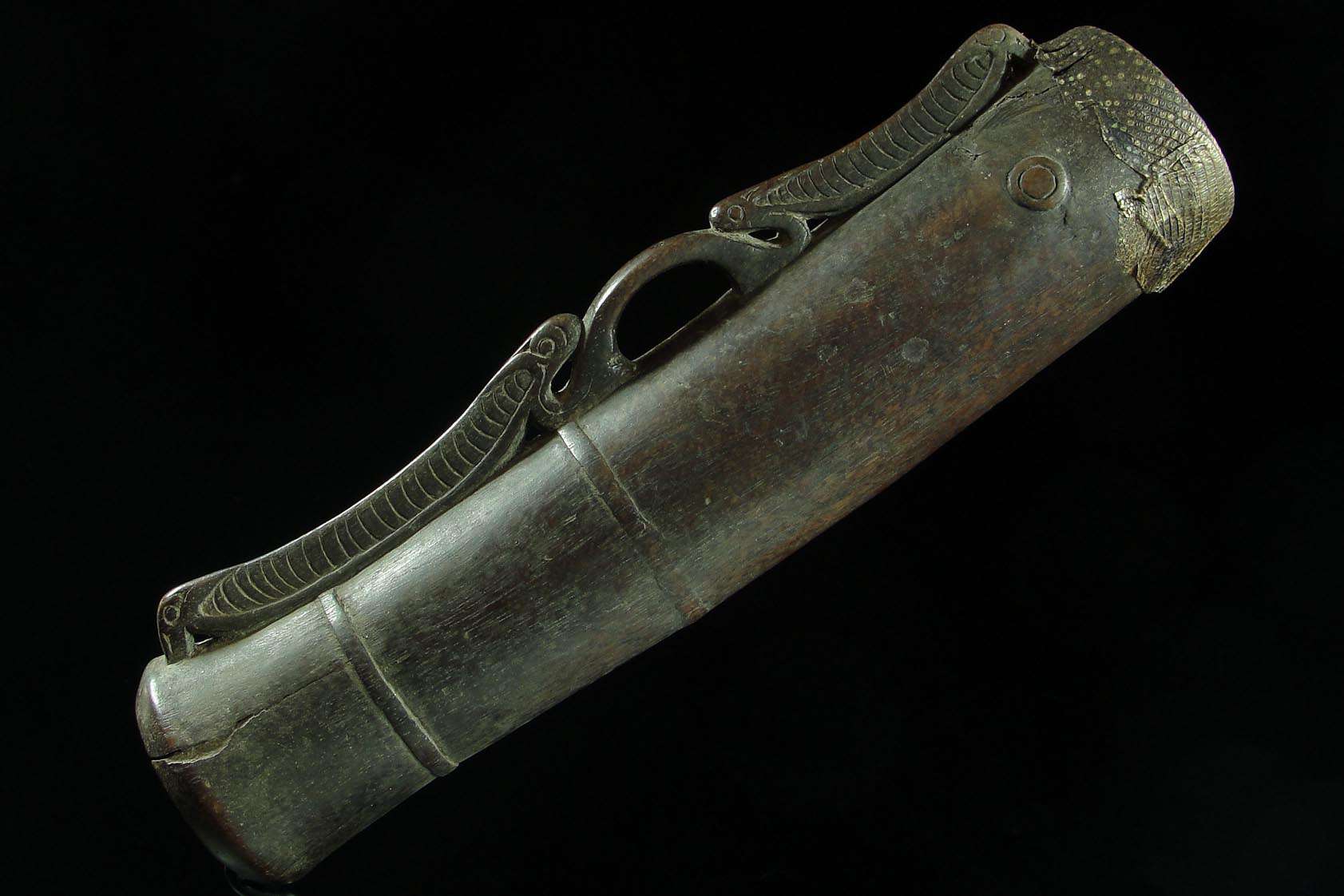 These drums like most highland drums have no handle. They are thin waisted and skinned in possum hide.
Western highland kundu often have geometric designs on the bottom third identical to those used on bark belts from this area
.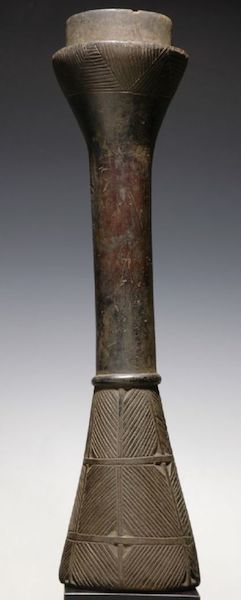 Southern Highland Kundu
These short simple wasted drums are quite common. They are free from surface decoration.


Huon Gulf Drums
Drums from Tami island, Siassi, and West New Britain often have abstract pig tusk motifs. The middle third is often engraved with clan motifs. Opposite the handle is often a ridge of high relief carving.The most collectible drums from this area have faces on them.
The designs on drums from this area are often shared with the bowls this area is best known for.


Telefomin Drum
Papua New Guinea drums from Telefomin do not have handles and have designs on the bottom third. The designs are similar to those on shields from this area.

Upper Sepik Drums
Upper Sepik drums do not have a handle. The bottom third is often covered in clan motifs.

Lower Sepik / Ramu Drums
Kundu drums from this area often have mask faces on either side of the handle. The most collectible drums have full spirit figures on either side of the handle.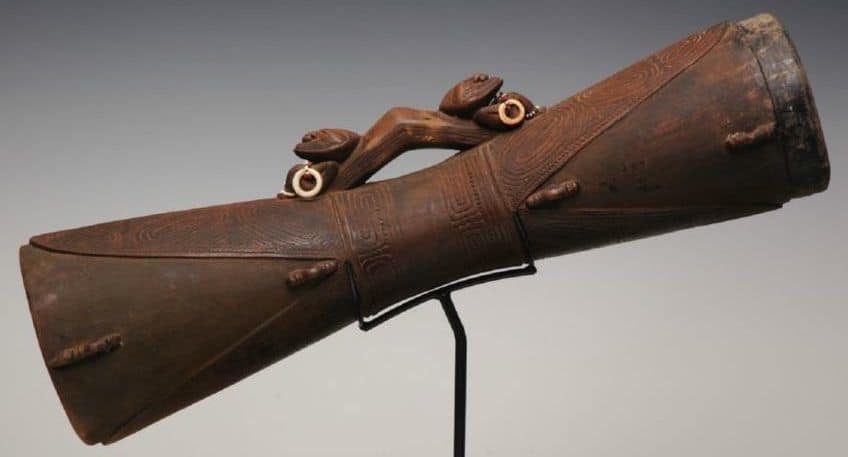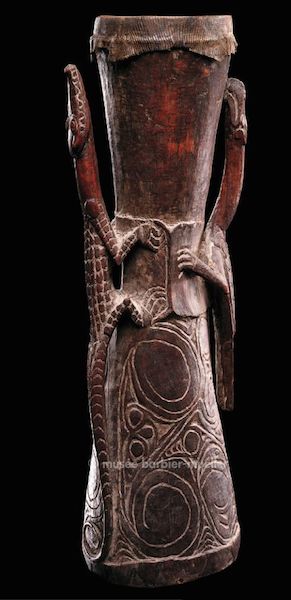 Iatmul drums
Iatmul drums are amongst the most collectible drums in New Guinea. They often have elaborate carving which includes spirits, hornbills and crocodiles.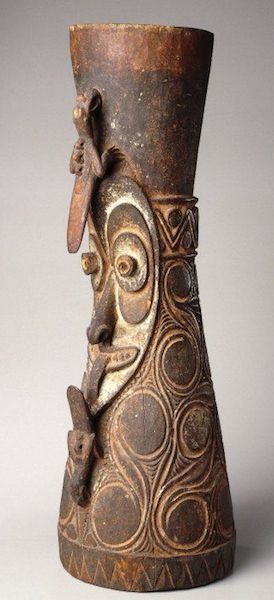 Abelam Drums
Old Abelam kundu drums are often much wider at the bottom than at the top. Not all have handles. Some pierced for the attachment of a cane rope handle.
Abelam Kundu Drum Sepik Region
They are often intensly incised with clan motifs. The best ones have faces or squatting dancers.

Boiken Drums
There is a large variety of Boiken drums. The best have faces or figures

All images in this article are for educational purposes only.
This site may contain copyrighted material the use of which was not specified by the copyright owner.
New Guinea Drums Value
It's not possible to include all New Guinea Drums in a single article. The PNG museum in Port Moresby has a storage room full of different types of drums. The value of a new guinea drum much like New Guinea Figures has a lot to do with how old it is and how beautiful the form and designs are. If you have a drum and want an opinion on what it is worth please feel free to send me images.
If you enjoyed this article you may also enjoy my articles on headrests, bowls and shields
Please take the time and make the effort to share this article on social media.
By clicking any of the share buttons below you create a link from your social site to this article. Links are what google uses to calculate what information on the web is useful. By sharing this article you are letting google know you found my article / images of some value. Thanks!