Tribal Paddles from the Pacific
Tribal paddles from the Pacific vary depending on where they come from. Many are not worth very much but some are highly collectable. Tribal paddles from Polynesia tend to be more valuable than paddles from Melanesia. Not all paddles are for propelling water craft. Some of the most collectable were for ceremonial dances. The most expensive tribal paddles are from Easter Island.
This article looks at the most collectable forms of tribal paddle from the pacific. It has lots of images to act as a visual guide to help readers identify where different paddles come from.
If you have a tribal paddle to sell please contact me. If you want to know what your tribal paddle is worth please feel free to send me a Jpeg. I would love to see it.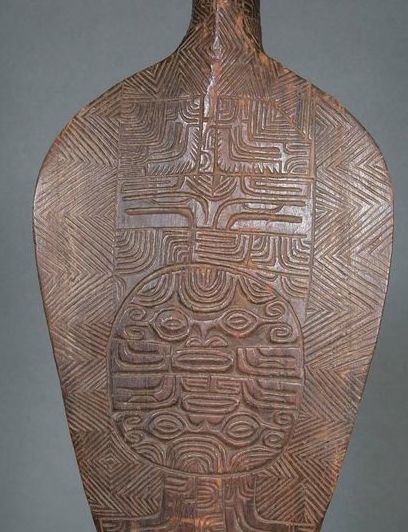 Detail on a Marquesan Ceremonial Paddle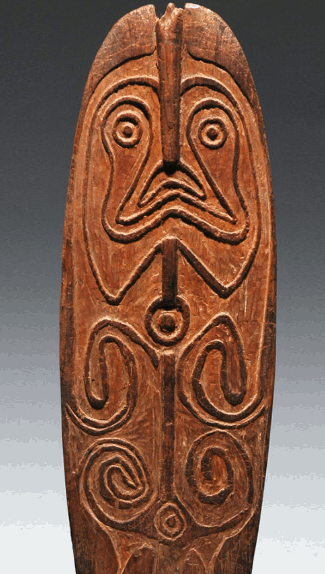 Tribal paddles general
Tribal paddles come in three broad types. The most common paddle is use for propelling canoes through the water. These paddles are often fairly plain. Collectable varieties tend to have carving either on the blade or on the pommel.
The second type of paddle is a steering paddle. These are for steering sailing canoes and are larger and often have a much larger blade.
The third type is paddles used for ceremonial purposes and dances. These often have the highest quality of carving and are the most collectable
Collectible Tribal Paddles by Area

Easter island paddle (Rapa)
Easter island paddles are the most collectible paddles from the Pacific. The paddles were usually carried in pairs to accent the movements of performers. the performers spun them on their axes to the rhythm of a chanted accompaniment.
The reason these paddles are so sort after by collectors is that they are in fact highly stylized anthropomorphic figures. This takes them from being paddles to being abstract sculpture. The paddles push the human image to the limits of abstraction. The figures reduced to bladelike forms representing the head and abdomen. The facial features are here refined into a single curving browline that incorporates the nose. The browline extends downward at either side to small knobs representing ear ornaments.
The paddles were for both men and women, though the sexes seldom performed together. Men also reportedly employed Rapa during funerary rituals in which they kept a vigil over the body of a slain comrade.

Maori tribal paddles
Maori tribal paddles are sort after because they have some of the most detailed carvings. Early paddles were for propelling huge war canoes. These early paddles often have a minimal surface design on the blade but a great shape and beautifully carved pommels.
Highly decorated paddles were for sale to early travelers. Often the whole blade intricately decorated with curvilinear designs and faces. Early decorated Maori paddles are the same shape as used canoe paddles. Despite being early tourist carvings they are still collectible due to the superb workmanship.
Later examples of Maori carved tourist paddles lose the shape of the original paddles and become flat and less elegant.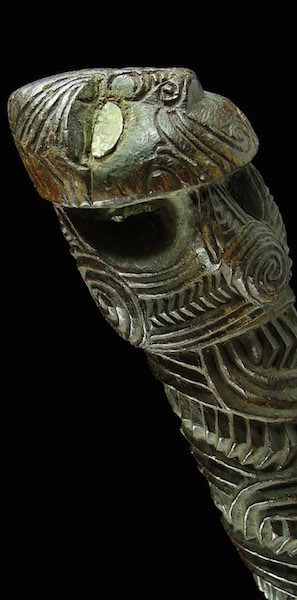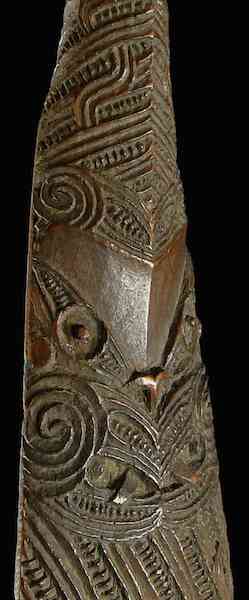 Austral Island Tribal paddles
Ninety-nine percent of the paddles from the Austral islands were to sell or trade with early travelers. It was a major export item and they are not particularly rare. What makes them collectible is the superb workmanship.
In general older Austral island paddle tend to be smaller and have round pommels. Square pommels and larger paddles are later in production. The more eccentric double bladed or double handled varieties are also later.
Many Austral Island Paddles have sunburst motifs. As a general rule of thumb, those paddles with Sunburst motifs are later.
The pommel is normally carved with stylized depictions of the goddess Arununa in a squatting position.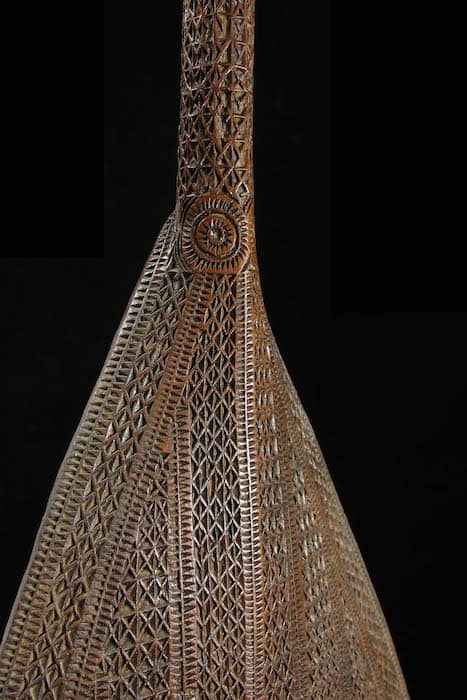 Sunburst motif near handle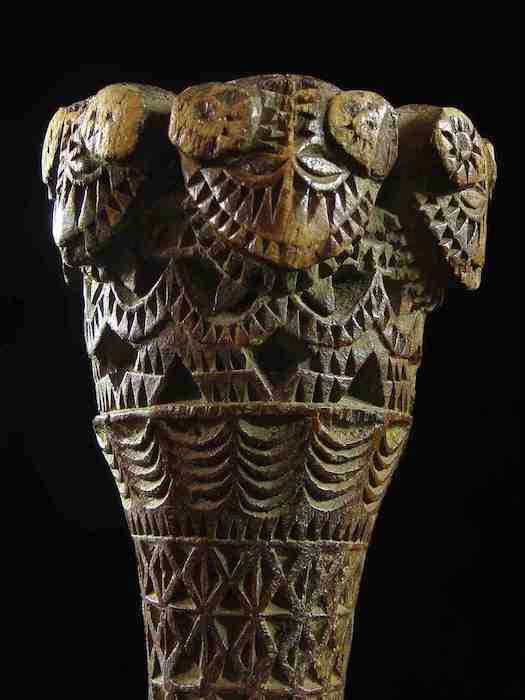 Pommel carved with stylized depictions of the goddess Arununa in a squatting position.
Buka Island Tribal Paddles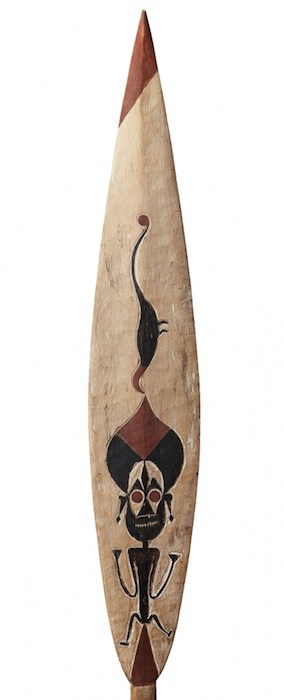 Buka Paddles
Buka paddles come from the Solomon Islands. They were for ceremonial dances and have two main types. The most common type is a paddle with a face or faces on the blade. The rarer type is a paddle club, decorated on the blade and has a Janus figure on the handle.
Both are collectible but the paddle clubs are more popular due to the often well carve figure on the pommel.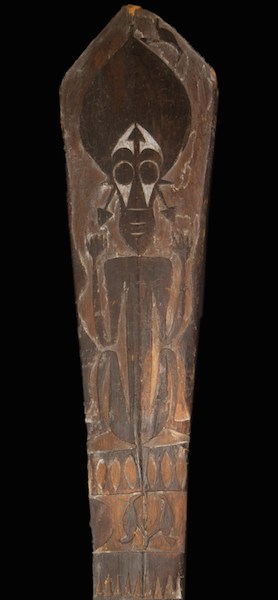 Sepik River Tribal paddles
Paddles from the Sepik tare often well-carved. It the quality of the carving and rarity that make them collectible. They were used for paddling canoes so often have wear and a good patina on the shaft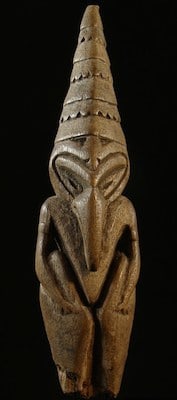 Marquesan Paddles
Marquesan Paddles are rare and collectible. They have a distinctive lug on the bottom which in early undecorated paddles would have been for pushing along in the shallow water.
These paddles were also made as ceremonial items. The ceremonial version is often covered with tattoo motifs. The most collectible are intensely carved and have faces.
Later versions made for sale tend to be of a lower quality and shorter.

Other Collectible Tribal paddles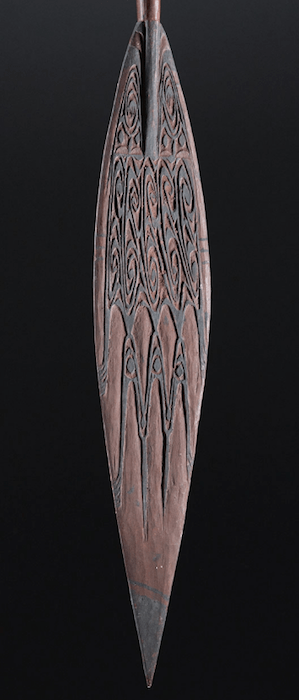 Lake Sentani canoe paddle


Papuan Gulf
Dance paddle Blade

Tribal paddles
There are hundreds of other styles of paddle from the Pacific. Most of them have Minor collectible value. Collectible paddles tend to have nice designs on them, are well carved or have faces/ figures on the pommel or blade.
Some clubs can easily be mistaken as paddles. These include Polynesian clubs from Nuie and paddle clubs from the Solomon Islands.
If you have a paddle and don't know if it is worth anything or not feel free to send me an image.
If you have enjoyed this article you may also like my articles on Papua New Guinea carvings Vanuatu War clubs or Aboriginal weapons
All images in this article are for educational purposes only.
This site may contain copyrighted material the use of which was not specified by the copyright owner.
Please take the time and make the effort to share this article on social media.
By clicking any of the share buttons below you create a link from your social site to this article. Links are what google uses to calculate what information on the web is useful. By sharing this article you are letting google know you found my article / images of some value. Thanks!